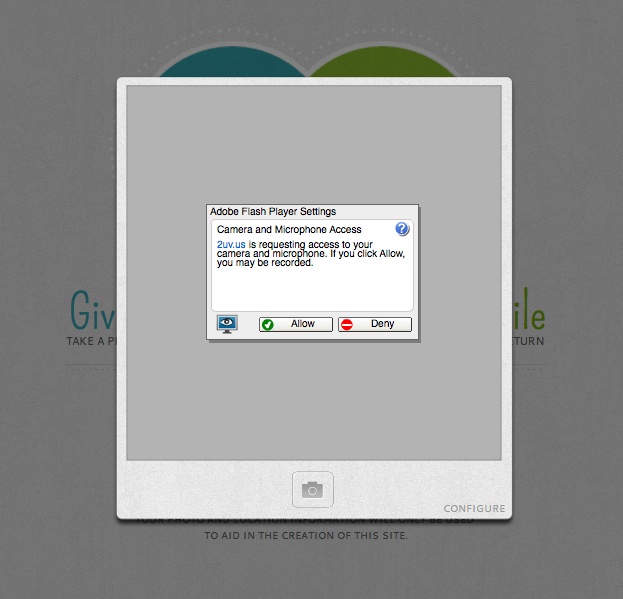 There are these ugly little things that appear again and again in our lives (particularly in our digital lives) and I think it's time to speak up.
Not only are they ugly they give you a negative jolt each time you encounter them and THEY NEED TO BE REDESIGNED. I'll be calling them out as I find them in hopes that someone will hear our cries.
So, I was going through the beautiful, well designed flow of Two of Us. Then I clicked the button to record my smile and BOOM the Adobe Flash Player Settings module. Grrrr.
It looks scary. It's as though it was designed to encourage folks to "Deny" it.
The experience I was in, is now over and I'm no longer thinking about sending my smile into the world I'm thinking about my computer hardware, web security, identity theft, stop signs, what is that eye ball supposed to mean?, what is Flash anyway?, am I supposed to know what Flash is?, do I have the expertise to decide if I should allow this, do I have an option?, what are the risks?, where will the question mark take me?, Is that safe?, I better just quit. I don't feel like smiling anymore.
I can't imagine that's what the designer of this project had hoped for. I know because I've had to implement this once and it was very frustrating.
We all understand that it's necessary to ask permission for this type of activity but what message are we sending when we pop this in front of them?
If this was designed better or better yet able to be skinned like Facebook and Twitter permission messages the product designers could send a message that yes, this action is something you should understand but we have vetted it and would like you to trust us. We are doing everything we can to protect your privacy and keep you secure while allowing you to be part of this awesome site. You are safe, keep going. You can review what you have allowed at anytime from your account page.
So please Adobe, Redesign This.
_______________________________________