Such a great campaign. I'm totally trying to come up with an idea. Any devs want to enter with me?
One of my close friend's close friend who I would also call a friend's husband is the musician Tomo Nakayama. He and his music are featured in the new by Lynn Shelton film. This is his blog post on the film and trip to Sundance. In it he says,
"The scene in which she uses my song to bring all the different story arcs together is incredible. I've never been moved to tears by my own music, but to see it used so perfectly and personally to tell someone else's story was an amazing and humbling experience."
How wonderful. I hope to see the film soon. LISTEN
I am so using this to share project research with my design teams!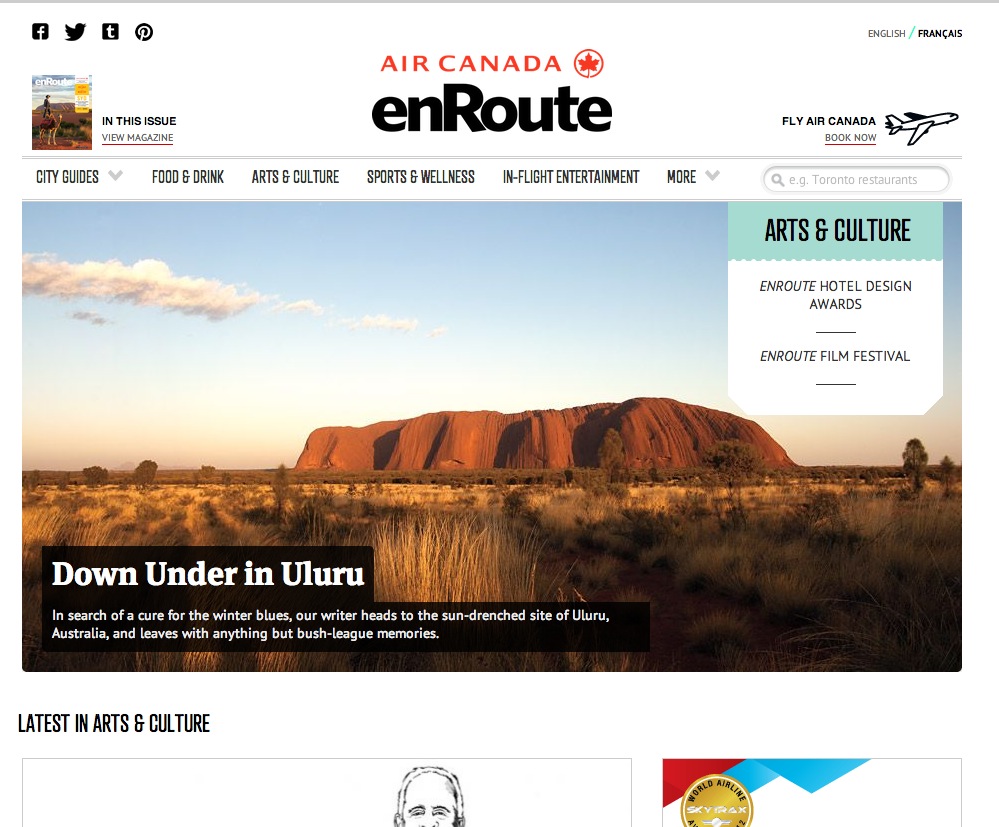 Really nice offering by Air Canada. Great content and beautiful design. My only critique is that they break the articles up onto multiple pages (for ad veiwes I assume) I get this but for the love of god allow me to click through without having to move my mouse and scroll on each page.
Libraries are interesting. I worked in the public library system in college and for a couple years after. The topic of what the purpose of the library system is is a constant discussion not just in the media but within the library. I heard these conversations amongst lowly clerks and bookshelvers, all the way up to the head librarians and city officials. Access to information and the cost of this access will always be a hot topic in America. I kinda like that. It's exciting to think about the future of libraries. It's happening now. I need to figure out how to get back in the game.
The article ends this way:
"These findings paint a picture of a public that wants its libraries to be all things to all patrons," said Lee Rainie, Director at the Pew Internet Project and co-author of the report on these findings. "There is no clear roadmap of public priorities for libraries, so different communities will likely come up with different mixes of services as they move into the future."
I wonder what this discussion looks like in other countries.
Extremely informative walk through the money of music sales for a small band.
Original Post from the band Uniform Motion who's music is actually quite beautiful so this also serves as a music find! Go over and take a listen.
New project that my friend Corey Pressman of Exprima Media launched recently. I'm very much looking forward to following it.
The Holocene is a digital micro-magazine for do-it-yourselfers, makers and curious people. Moving beyond just publishing instructions or patterns, each issue of The Holocene focuses on a single topic or technique, providing a selection of in-depth information, outstanding photography, skills-focused tutorials, specific project instructions, and (eventually) video. Step-by-step instructions are delivered as you need them – it's like GPS turn-by-turn for your DIY endeavors.
_______________________________________