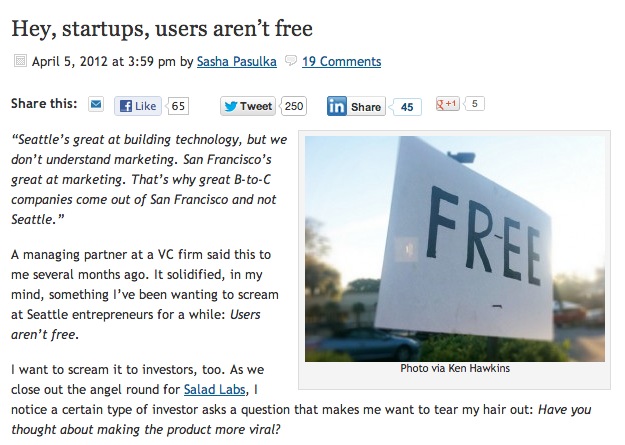 This article by Saha Pasulka is an awesome, well informed, educational rant about the need for startups to use marketers and implement smart marketing strategies if they want to succeed as a business. It has some similarities to my rant this morning about the role of design in tech startups. Are we (non-developers/engineer types) bitter or do we just want to help?
For me it's about only putting good stuff out as a baseline then there is our legacy. I'm invested and passionate about the legacy and impact of this time in history. I want us as a tech/creative community to get together and do the best work possible and not be remembered as the generation that didn't quite do it.
Know what I mean?
This article is also awesome because it highlights issues that come up for agencies when working with all clients. It's common place for them to regularly ask for campaign mechanisms that are out dated or ill-informed in an attempt to give a campaign traction or "go viral". Love this passage from the article:
"Forcing all the users of your product to spam their own Facebook walls and the Facebook walls of their friends only makes your users hate you. It does not make your product "go viral.
...Here's another tidbit: Facebook has noticed that you plan to build your brand's equity by destroying theirs. The combined forces of EdgeRank and Timeline will ensure that a user's social network has near-zero visibility into the advertising you're forcing onto their wall. The only person who will notice it is your user, who will be annoyed.
The case studies about viral product growth via Facebook – the ones from a year or so ago that your investor remembers – no longer apply. The rules have changed."
I believe in the idea that a creative agency is a trusted advisor and that our job beyond generating great ideas and creating interesting beautiful creative and content is to guide our clients towards the best executions of these ideas (even if they don't want to) This article gives me some great discussion points.
Read any other good rants on what the startup world should be doing?
_______________________________________